news — interview with Jan Vrijs in Bouwnieuws
Jan Vrijs and Filip Timmermans were not in the spirit of the times when they decided in 2013 to bet on modular housing with Skilpod. And look where they are now, anno 2023. The company is well on its way to becoming a real brand name, and Jan Vrijs (40) was named Construction Man of the Year 2022 at the Belgian Construction Awards in December.
Skilpod, derived from the South African word for turtle "skilpad", was founded in 2013 by Jan Vrijs and Filip Timmermans. They started with the idea of developing and manufacturing affordable, high-quality and energy-efficient homes optimally as a product. Jan Vrijs: "Ten years ago, modular housing was rather negatively perceived as converted hob units or containers. In the early stages, we focused mainly on small-scale projects for individuals and home extensions. In this way, we wanted to link the Skilpod brand on the one hand and modular construction technology on the other hand with housing quality. This allowed us to grow systematically and evolve into larger projects. These private realizations were picked up by directors of housing corporations from the Netherlands, where we then built a number of large projects with quite a lot of customization."
turnaround in 2020
Jan and Filip decided in 2020, in full covid period, that Skilpod had grown enough to leave the customization behind and effectively put its own products into the private Flemish market. Jan Vrijs: "We started then with sustainable ground-level housing in Flanders. Today we can say that we are perhaps the very first company in the world to actually sell a home as a product directly to a private end customer. In the next phase, we will take the products to the Dutch market. After all: taking into account the so-called "brick in the stomach" of the Fleming, if we can score on the Flemish market with a home as a product, then it can succeed everywhere (laughs). At the same time, we also started developing stacked construction, with the intention of making a scalable breakthrough in Europe."
Skilpod currently realizes about 10,000 m² per year in the ground-level housing segment, which amounts to about a hundred homes. Jan Vrijs: "The ambition is to grow to 40,000 m² per year in stacked housing in a region, such as Belgium, for example. Within each region we aspire to realize 50,000 m² per year."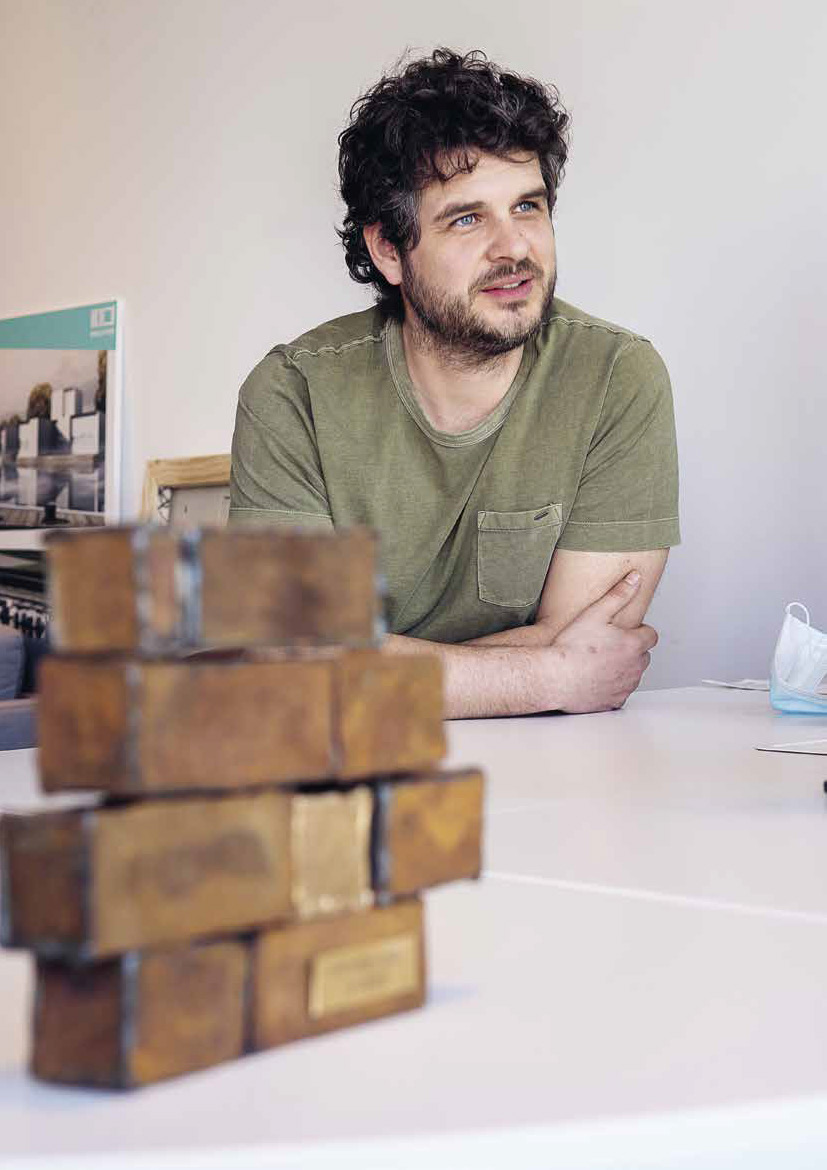 Lifestyle symbol
"Skilpod contributed very strongly to the current positive perception regarding modular housing construction in Belgium and the Netherlands. Jan Vrijs: "The best practices are doing their job. A prefab home should not be inferior to a classically built home in terms of quality, design and experience. Initially, our clientele consisted of people with a limited budget. Currently, customers with higher budgets, who in principle could build more expensive homes, are also finding their way to Skilpod. People today are very budget-conscious and like to have quite a bit left over at the end of the month for other priorities and dreams in life. The home of the future is no longer a status symbol, but rather a lifestyle symbol."
Belgian Construction Award
Skilpod's philosophy also struck a chord with the jury of the Belgian Construction Awards, so much so that they voted Jan Vrijs as Construction Man of the Year 2022. The concept was believed to be "particularly innovative and future-oriented, with many social possibilities such as temporary housing, care units and stackable housing. According to the jury, Jan Vrijs is the company's cut-and-dried standard-bearer: "His ideas intrigue, enthuse and make one curious about the future." What does such an award mean to him? "Construction is evolving more and more from project-based to product-based construction. We have been paving that road for years. I think this is a very nice recognition and confirmation."
However, nothing suggested that Jan Vrijs, who graduated as a lawyer from KU Leuven in 2005, would start a construction company. Until 2013, he worked as a lawyer specializing in corporate law, after which he decided to found Skilpod with his former fellow student and engineer Filip Timmermans: "I am strongly interested in the human-society relationship, in the broad sense of the word. It is important to me to contribute to society, to write a positive story in the long run. Filip and I complement each other very well in that respect, by the way."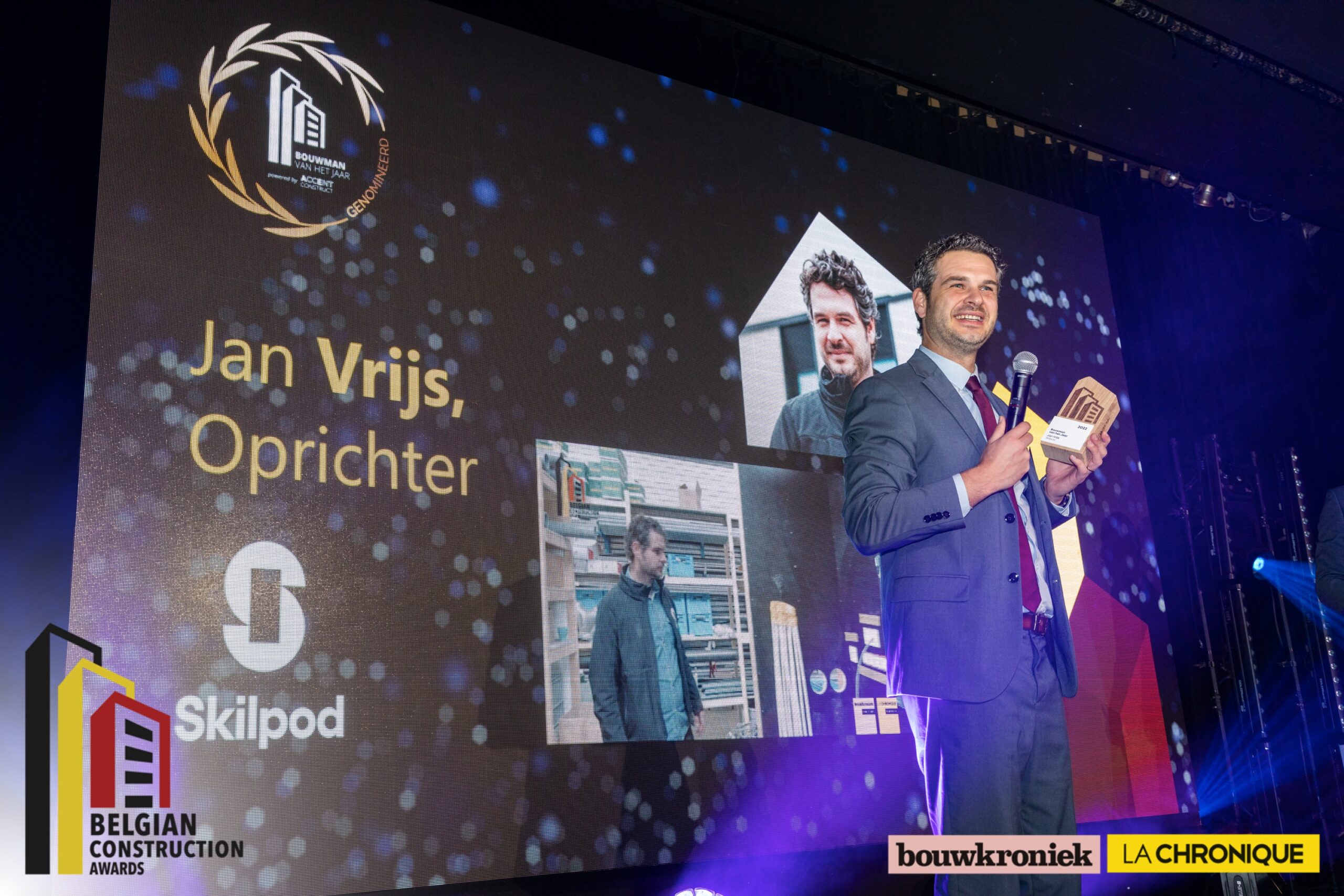 Towards 500,000 m² per year
Whereas Jan and Filip built and tested the first Skilpods themselves, over the years they evolved into a company with about 50 production and on-site employees and about 20 people at the office level. "Within this and ten years, I hope that we will achieve our ambition towards 500,000 m² per year, which amounts to 6,000 or so homes per year, within a European context and that globally Skilpod may stand alongside the best-known brands."
Finally, whether the Construction Man of the Year has any tips? Jan Vrijs: "Filip and I value a clear vision. It is important that employees know where we want to go. Sustaining an ambitious vision is easier if everyone is behind it. The more you talk about it, the more people think along. We are not in a tight straitjacket and give employees enough space to develop within that framework. Our horizontal structure with short lines consists of many young people. However, the door is open to everyone. And last but not least: if you go for something, keep going. Entrepreneurship is not a sprint, it is a marathon."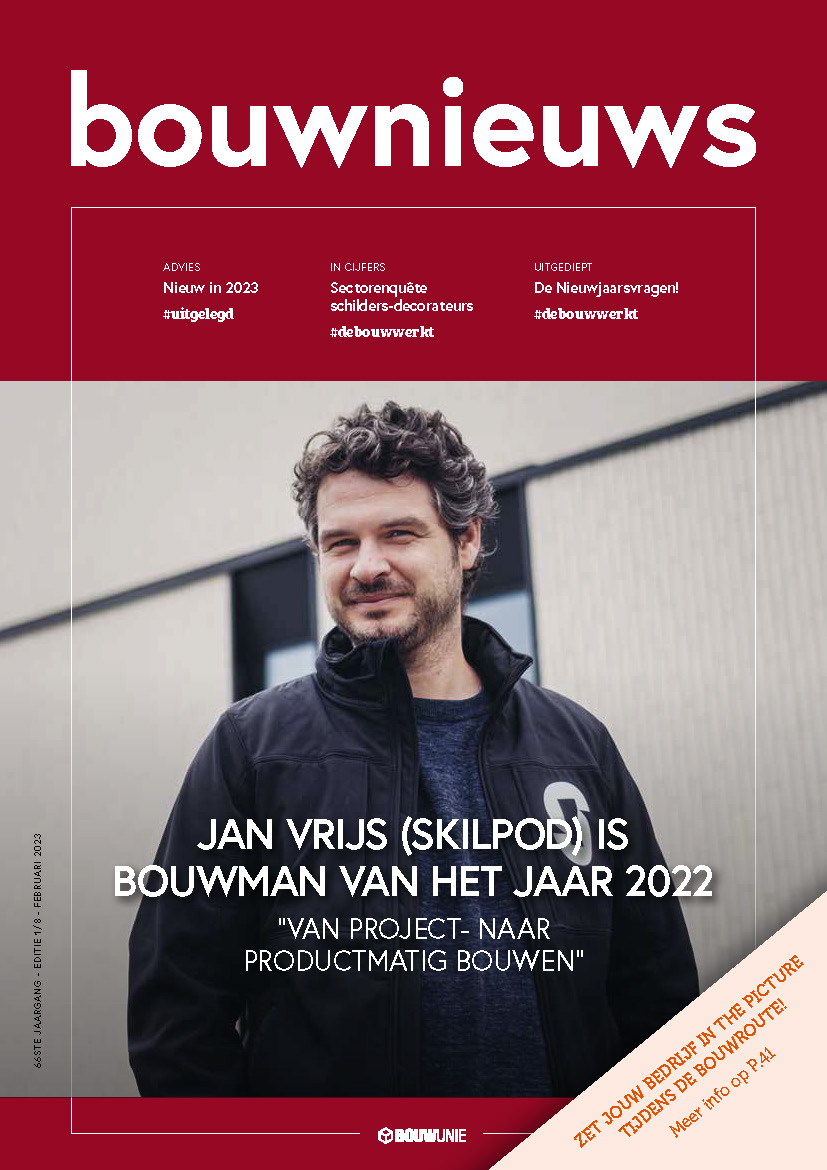 Text from bouwnieuws februari 2023, a magazine by Bouwunie