reviews — how our customers experienced Skilpod
Having a new house built, you also like to have the right construction partner under your belt. This search is not always easy. Especially if you are also looking into prefab and modular construction. (Tip: be sure to check out our article on the pros and cons of modular construction).
To make your search a little easier we like to share reviews from our customers and explain our own experience as well.
more than 10 years of experience in modular building
Founded in 2012, Skilpod can look back on a decade of experience. We have a nice archive of past projects that we can look back on with pride. For those who have an understanding of finance: our annual accounts can be found at the balance sheet center.
In all those years we have been scrutinized several times, from different angles: by journalists, for reports of all kinds, by the construction sector itself, for our Thor Award and by the JCI organization, for the JCI Award that our founder Filip Timmermans won. You don't just get those awards for a bit of tinkering, you have to be able to demonstrate tangible results.
We are also proud recipients of the support of our investors Van Roey, Futech and the Innovation Agency of the Flemish government. Thanks to them, we are even more confident and we consider their support an additional quality label.
an enthusiastic and fun community
But if we are completely honest, there is only one thing that counts: satisfied customers. For us, the ultimate proof that we are doing a good job is what we see every day in our mailbox: people who come knocking on our door after friends, family or colleagues have already bought a Skilpod and recommended us.
So we are very happy to have such a positive community behind us and hope to welcome many more people to that community.
reviews and experiences highlighted
how Kenny experienced Skilpod
"I hesitated very briefly," Kenny says. Because of a personal setback, she put the project on hold for a while, but that was short-lived. "I had some people around me who could support me technically, because I thought that was going to be my pitfall, but I never had to call on them. If there was anything, I could always turn to Skilpod. Even for me as a woman with no construction knowledge, everything was clear." Before the installation, she wondered if there was anything she needed to pay attention to, anything else she needed to do, but again, everything turned out to be taken care of. "Even the workmen who did the placement were able to answer my questions."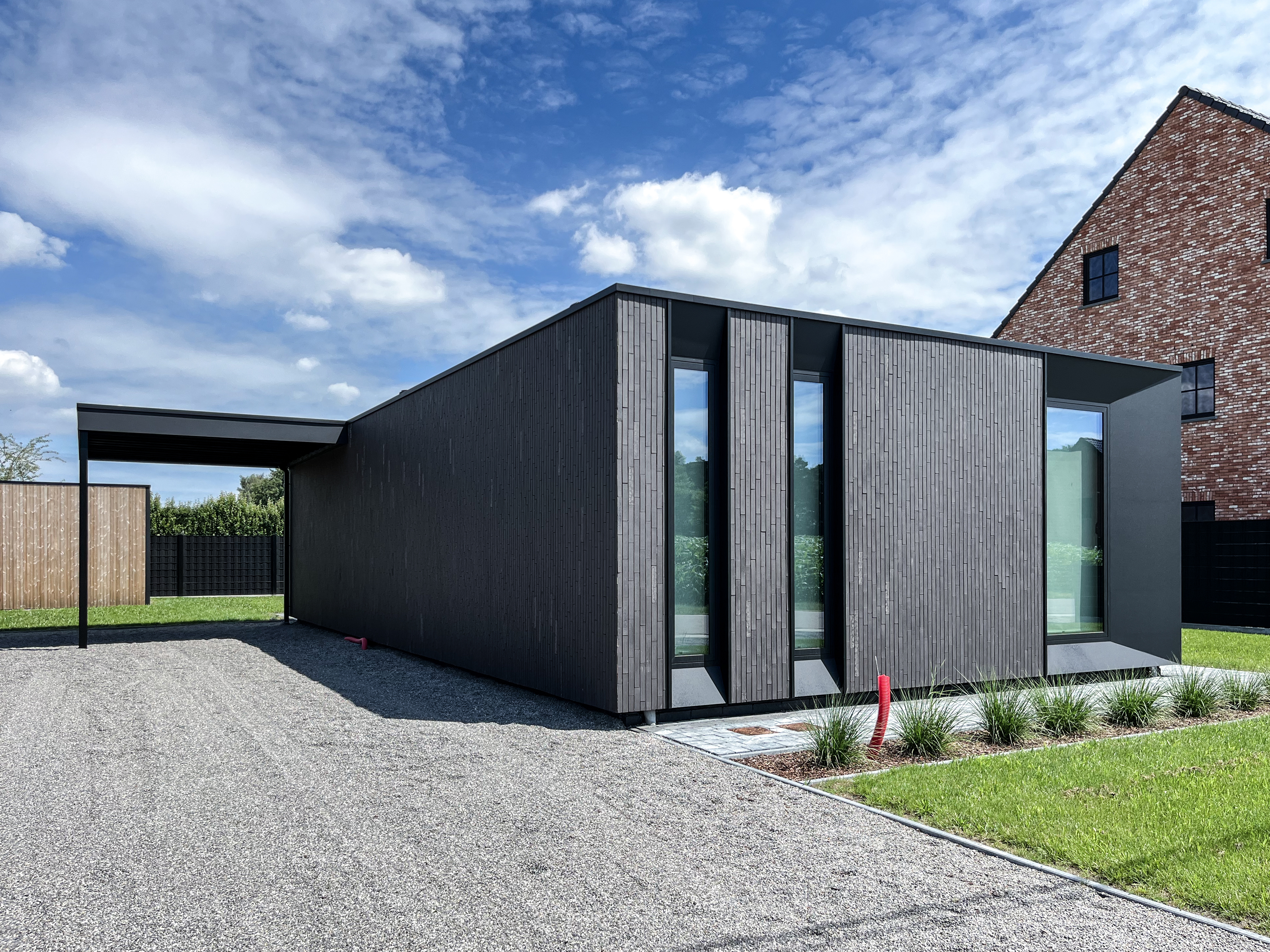 why Patricia and Gert love Skilpod
The after-sales service. They were always helped quickly and clicked with the people who came over
The design, especially the red stone strips. Patricia doesn't understand why people choose anything else.
Green building and living. That was an absolute requirement for Gert to buy and it was certainly met.
Read Patricia and Gert's full review >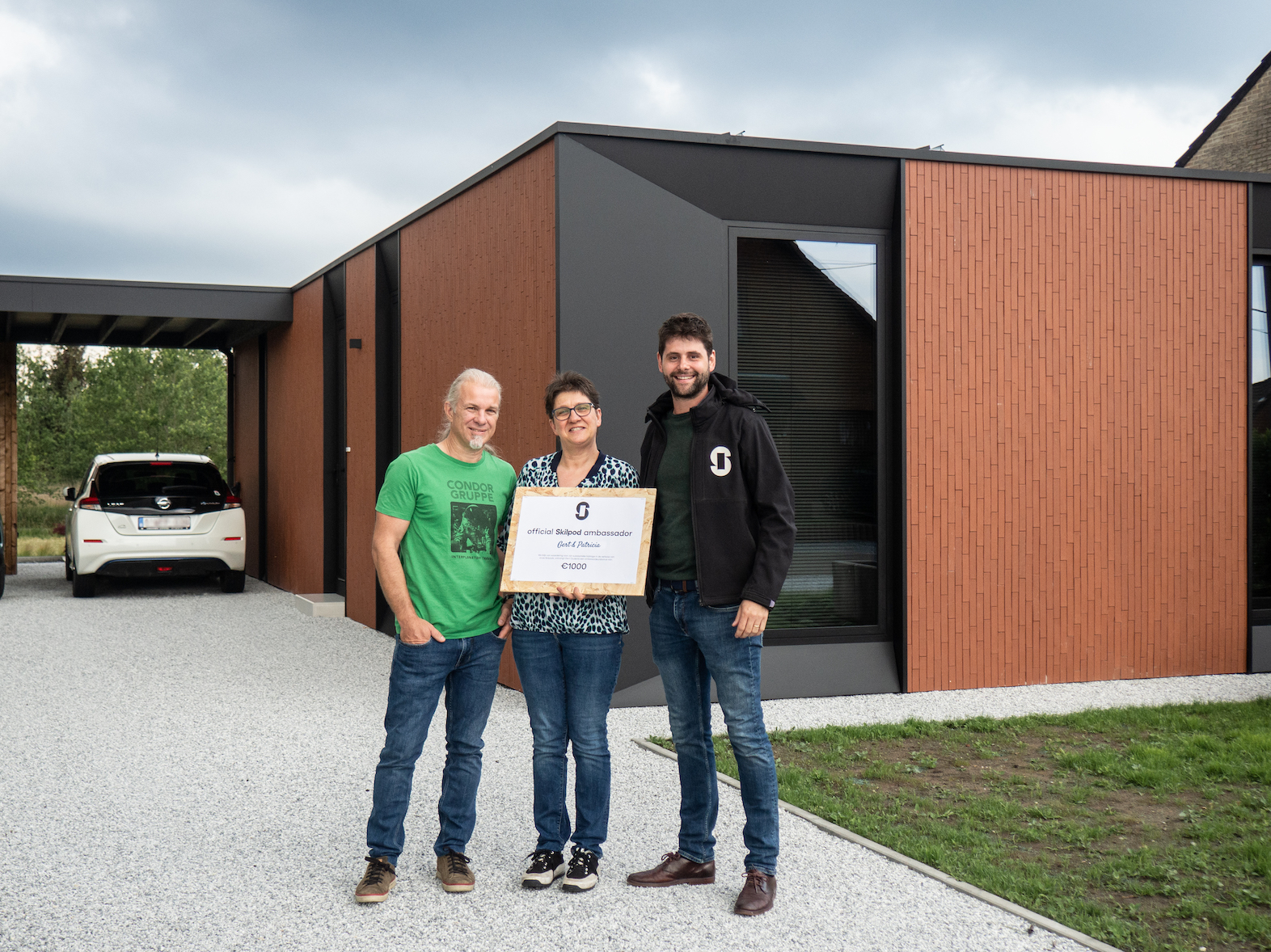 Louise's experience in her Skilpod #140
"We first came into contact with Skilpod around March 2021, and we were able to move in August of the same year! We were always pleasantly received by Toon-Bert who was always ready with the necessary advice. After we had discussed everything well, we only had to wait for the moment of delivery. Well, if you can call 3 months 'waiting'... We have been living in our Skilpod #140 for more than half a year now and still enjoy all that light, that sleek design and how maintenance-friendly the house is every day. We would recommend this way of building to anyone! Thanks, Skipod!"
Check out our other reviews on Google >