news — Skilpod combats housing crisis with modular timber frame apartments
Big news! As of August, we will be expanding our product range with a system to build apartments efficiently, quickly and sustainably. After a 3-year research and development project, with the help of a one million subsidy from VLAIO (Agency for Innovation and Enterprise), we are ready to start another housing revolution.
high time for innovation
By the end of 2021, 180,000 people were on the waiting list for social housing in Belgium and only a few thousand social housing units are added each year. Middle-class families are also finding it increasingly difficult to find affordable housing.
In the Netherlands there are plans to build 100,000 more homes on an annual basis to solve the housing shortage. A total of 1,000,000 homes must be added.
We see it clearly in our own sales. Families are finding it much harder to find a building plot and can hardly afford a house anymore. And that's just the people who come to us. We're hearing more and more Skilpod fans who simply have to put their building dreams on hold.
What's more, construction is the only sector where productivity has not risen but actually fallen in recent decades. So there is an urgent need for innovation. Today there are already several players on the market who, like us, offer alternative forms of construction for single-family homes, but project construction lags behind.
The Skilpod mission is to build a quality and affordable home for everyone. We simply won't get there with just family homes. Apartments are the logical next step.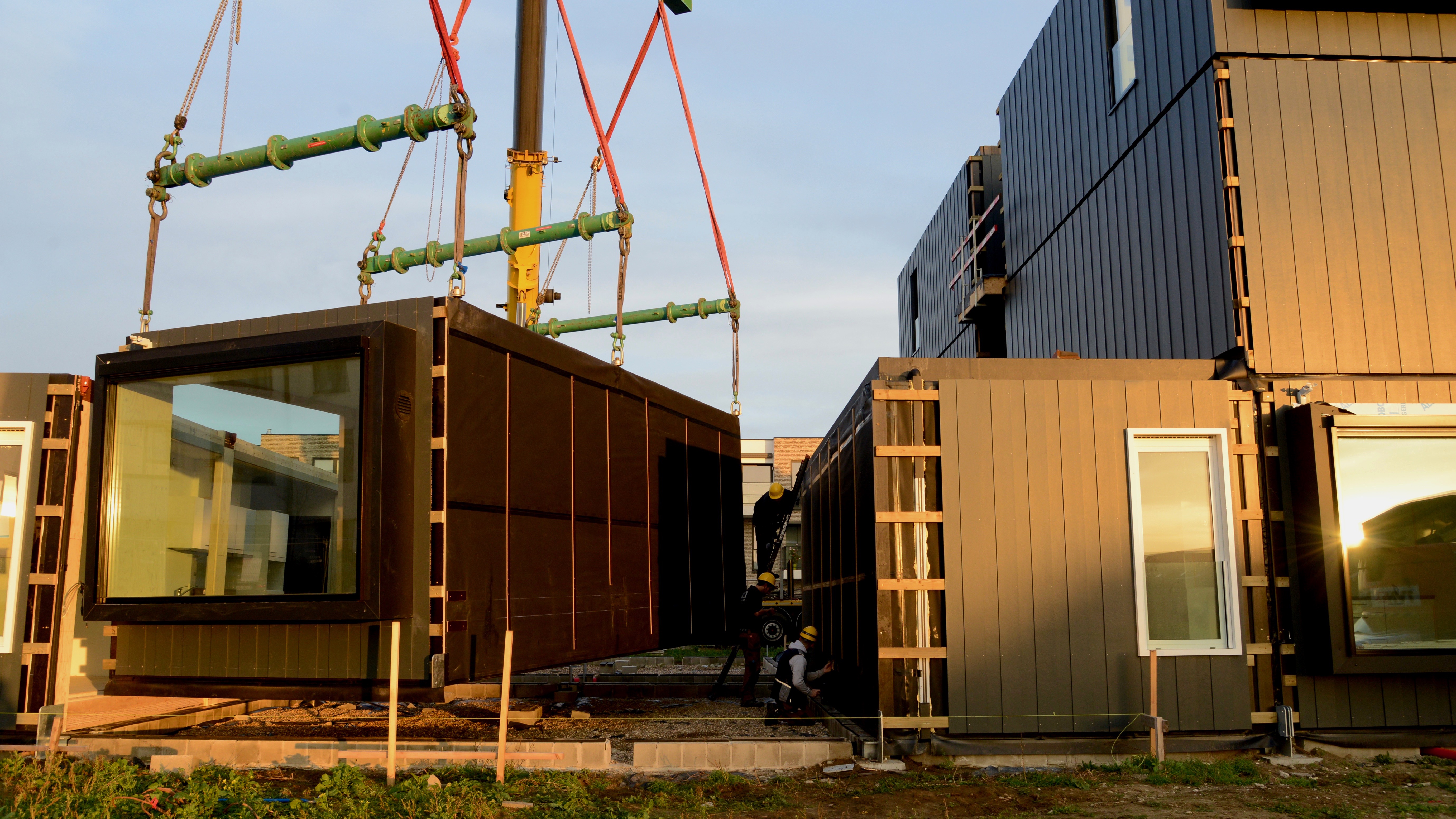 uniform but flexible
The apartments expand on the model that we're already using for our single-family homes today: standardized modules that we produce in a few weeks in our workshop in Geel and then transport to the site. For family homes, this already provides many advantages in terms of efficiency and scalability. For apartments, the economies of scale are even greater.
The apartment modules are uniform, but in other respects offer more freedom and flexibility than traditional construction. In most apartment buildings, the higher floors are a copy of the ground floor. With our system, you can arrange each floor differently. In theory, you can even leave the layout undecided until the buyers arrive at your door.
The heart of the system is a single module containing the technical room, bathroom and toilet. These are placed within larger modules, which can be freely combined. So we can make anything from a studio to a 4-bedroom apartment, and this up to 5 floors high. This gives cities and developers the ability to respond to real local demand in real-time.
Over the past 3 years, our engineers and architects have been developing the modular stack building system and building the first pilot projects, for example for vzw Apojo in Aarschot. In the Netherlands, we currently have several projects in preparation.
living as a service
In the long term, we want to overturn not only the construction method, but the entire concept of living. By analogy with other "as a service" services such as Netflix or Cambio, which offer entertainment and mobility without you having to be an owner, we want to popularize "living as a service".
Additional services and infrastructure will be linked to a Skilpod building, whether or not in collaboration with partners: common areas, solar panels on the roof, package lockers, a dedicated Skilpod maintenance service, etc.
In addition, tenants will be able to co-invest in the building according to their own financial possibilities, like in a cooperative housing model.
Today renting is considered as throwing money down the drain, because it costs too much and yields nothing in the long run. In the living as a service model, the total package is so much better in terms of quality of life that, as a family, you'll consciously choose it.
available floor plans
Skilpod has developed an initial range of 7 flat models with minor variations. We are still working on further developments. For more details and questions about what is possible, please contact us.