news — Skilpod ready for international growth with new investors
The challenges on the international housing market are immense: affordable, energy- and CO2-neutral living adapted to the diversity of societies is the future. Innovative housing models are urgently required.
Skilpod makes clear choices and combines the development of an internationally scalable product range with thorough industrialization and digitalization of the entire building process. This unique combination allows for a systematic reduction of the development costs and creates room for disruptive models such as 'Living As A Service'.
For these challenges, the founders, Filip Timmermans and Jan Vrijs, are reinforcing Skilpod with the expertise and decisiveness of experienced partners: first-time investor Raymond Cretskens (Cretskens Group) is joined by Group Van Roey and U2Pgroup (Ismaël Ben-Al-Lal).
Skilpod has been the trendsetter in the housing market since 2013 with the realization of numerous innovative residential projects. During this period, Skilpod not only built a strong brand status but also systematically optimized its entire prefabricated construction technology. In less than seven years, Skilpod has become one of the most influential players in the Benelux market, particularly in the development and realization of affordable, sustainable and aesthetically pleasing compact homes.
With the arrival of Groep Van Roey and U2Pgroup, Skilpod resolutely continues its choice for its own Skilpod housing concepts with a laser focus on the development of compact and energy-neutral homes (single-story to mid-rise). This is the next important step in rolling out the business model and scaling up internationally.
Affordable living
Anno 2020, Geel-based Skilpod faces a number of major challenges. "It is our ambition to be able to offer affordable and energy-neutral living on an even larger scale," clarifies Filip Timmermans. "In order to realize this, the building cost has to be drastically reduced through a thorough industrialization and digitalization of the entire building process." adds co-founder Jan Vrijs.
In a rapidly changing world, Timmermans and Vrijs also see enormous potential with the 'Living as a Service' concept whereby housing is offered as a service. "In this model, a tenant eventually becomes an investor and pays a fee that covers not only living but also energy consumption and other services".
Corporate venturing
In order to realize this ambition, Skilpod went searching for complementary partners-investors with a common vision and culture who all value sustainable business.
As a shareholder from the very beginning, Raymond Cretskens has fond feelings for Skilpod. "Given our ambition to develop residential entities with a recognizable Skilpod signature and to commercialize them internationally according to a franchise model, it is incredibly valuable to have Raymond's expertise on board. With Groep Cretskens, Raymond is the largest franchisee of Carrefour supermarkets in Belgium. So he knows the tricks of the trade like no other."
A new shareholder is U2Pgroup, Ismaël Ben-Al-Lal's holding company above solar panel installer Futech and engineering firm iLumen, among others. "From its experience and technical baggage, U2Pgroup will take on an important role with regard to the sustainability issue" explains Timmermans. "In addition, they have already made a lot of steps in applying the 'Energy as a Service' principle in practice, which fits perfectly within the broader framework of 'Living as Service', adds Vrijs.
Finally, the founders are very pleased that Group Van Roey will also be joining Skilpod as a shareholder. "Group Van Roey's vision of improving the quality of people's lives through the creation of livable, sustainable and affordable environments is a perfect fit with our vision. Moreover, they have 280 years of experience in designing, building, financing, maintaining and operating complex projects and are heavily committed to the energy transition and circular construction."
www.u2pgroup.com
www.groepvanroey.be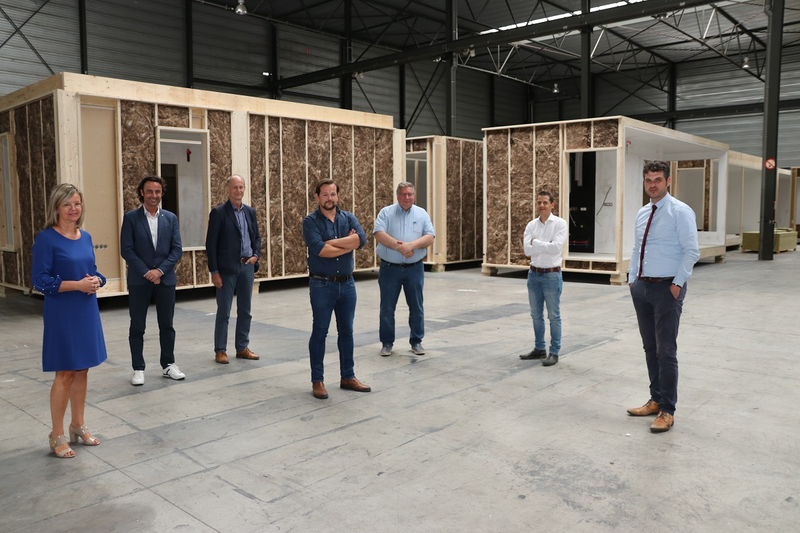 In this picture from left to right:
Nancy Vervoort, financial director
Geert Verachtert, director strategy and business development Groep Van Roey
Eddy Cox, managing director Groep Van Roey
Filip Timmermans, founder Skilpod
Raymond Cretskens, managing director Group Cretskens
Ismaël Ben-Al-Lal, managing director U2P Group
Jan Vrijs, founder Skilpod