smart building — how do we protect your Skilpod from moisture
building in a workshop
Step one is self-evident: we build our Skilpods in a workshop, where the climate is always perfect. It doesn't rain and the temperature is never extremely low or high. The wood on the inside of your Skilpod never get's into contact with bad weather.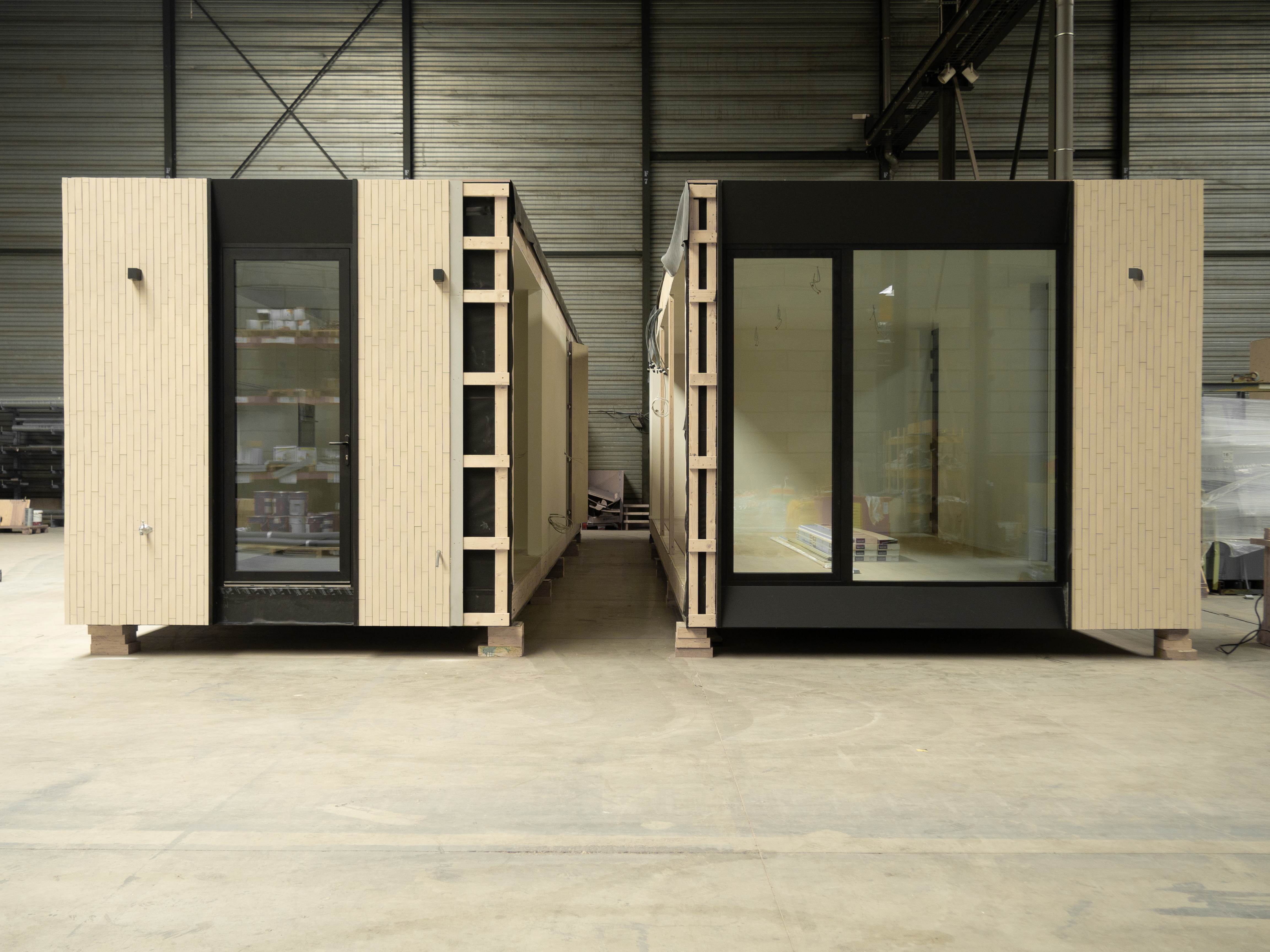 During the building phase, we're safe. But what about after that?
protective outer walls and a roof with extra safety measures
It all starts with the right construction method and built-in back-ups to be 100% safe and certain.
For the walls, we use a diffusion-open structure on the outside and a diffusion-closed structure on the inside. This means that no moisture can enter your walls from inside the home, but that, as an extra security measure, any moisture that's in the walls can evaporate towards the outside. The wood structure can always dry. This is essential for timber frame homes.
A crucial part of this structure is a special one-way filter, that only lets moisture out, but not in. How does that work? In the video below, you see a demonstration by the company that produces the filter membrane we use in our Skilpods.
Our homes are completely packed in a water-repellent wood wool coat. On top of this, we add another waterproof membrane, the SIGA Majvest 700, that protects against all forms of moisture, including heavy rain and snow.
If you opt for a stone exterior, there's another layer of waterproofing. The Powerpanel H2O we use as the base to mount our stone strips, is also waterproof.
Because our roofs are flat, we can't work with a diffusion-open structure. The EPDM we use (also known as roofing) is completely water- and vapor-proof. This is why we exclusively work with so-called "warm roofs". This type of roof is constructed in such a way that any moist air can't condense inside the roof itself.
We use another smart membrane, the SIGA Majrex 200, for this. Any tiny amount that may enter your roof, for example through minuscule air leaks, can dry out through the membrane, combined with the sun that heats up your roof.
It's also important to waterproof your roof on the inside. The average home is quite damp, due to your regular indoor activities: cooking, doing laundry, taking a nice hot and steamy shower and even just breathing. Which is why we also add a waterproof membrane on the ceiling side.
So what happens to the moisture in the air? It's handled by our demand-controlled ventilation system (type D. When there's too much moisture in the air, the ventilation system automatically replaces it.
Side note: the rain we catch on your waterproof roof gets neatly guided into your 5000l cistern, which you can then use in your toilet and outdoor faucet. There's an overflow system built into the cistern, for when the 5000l are exceeded.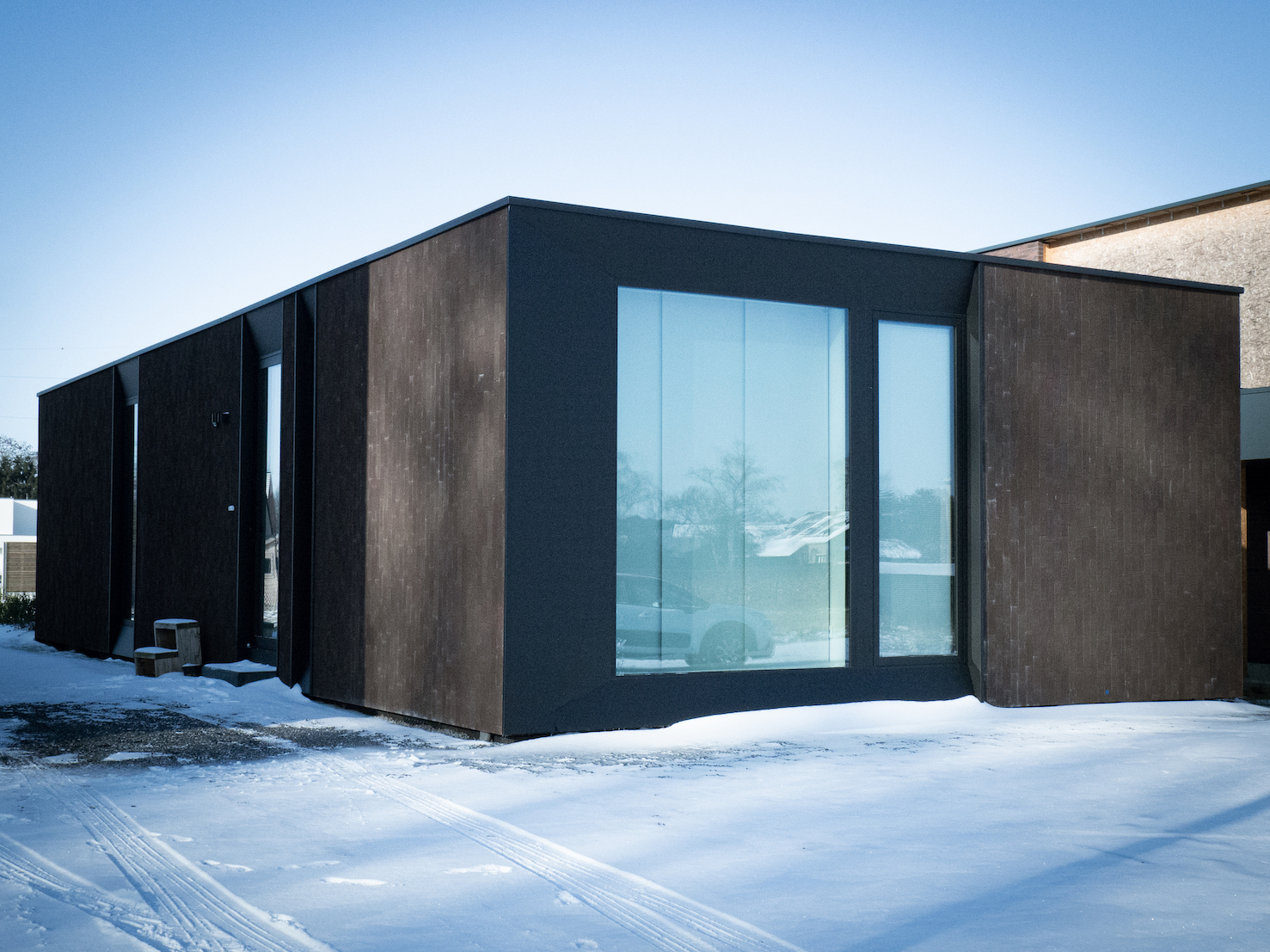 the bathroom
There is one extra wet place in your home: the bathroom. Of course, we add extra protection there.
The wood underneath the bathroom floor is impregnated with a waterproof coating. And we always put tile floors in the bathroom, no laminate. No matter how sweetly you may ask us, we won't compromise on that decision.
The sides of the shower are in direct contact with water, so we add an acrylic screen that's 100% sealed. Not a drop of water, not a dab of soap, not a gram of limescale will get inside.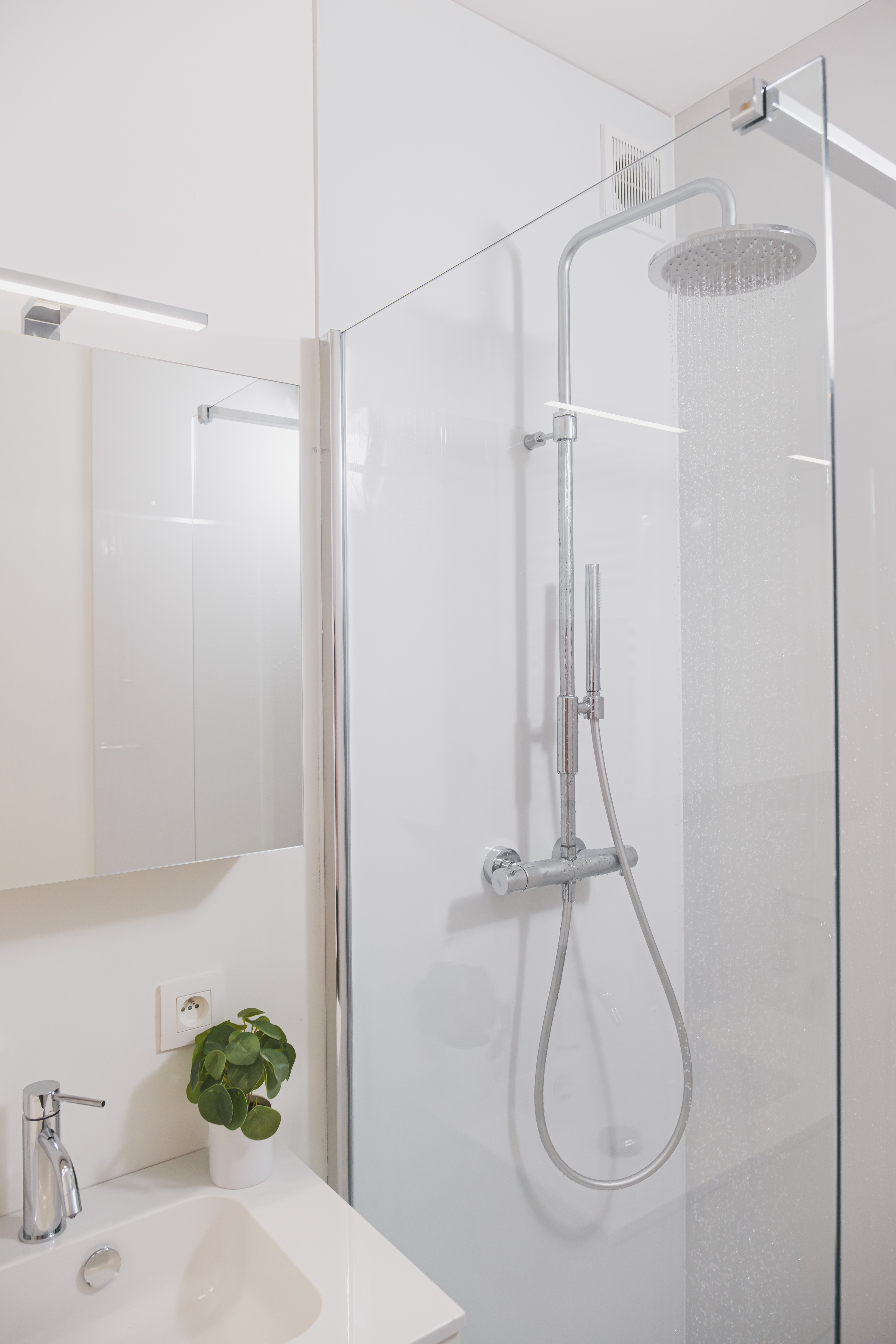 you'll believe it when you see it?
If you want to see these structures with your own eyes, you can visit our workshop, where you can check the Skilpods in construction.
You're welcome even before you purchase a Skilpod. If you're interested, don't hesitate to contact us.
more about smart building