news — Skilpod flats in Trendstop construction edition
Modular home builder Skilpod is aiming higher. Literally, because this year it will start building modular wood-frame apartments.
a modular solution to the housing shortage
A fine example of rapid construction on the Hoedhaar site in Lokeren. At the beginning of September, a new residential area with ten homes arose in just four days. These are fully-fledged homes on two levels, with floor areas of 110 and 130 square meters. In the meantime, the first residents have already moved into their new homes.
"There were about seven months between the building permit application and completion," Filip Timmermans nuances the record time. Timmermans is the co-founder of the construction company Skilpod based in Geel, one of the pioneers in our country in modular housing construction. "The installation was indeed completed in four days, but in total, we needed a month here at the site for finishing, painting and so on," Filip Timmermans continued. "At our factory in Geel, pre-production of a unit takes about two weeks. Finishing at the factory also takes about two weeks and then we also foresee another two weeks for installation on site."
"In theory, our homes have a lead time of six weeks. Of course, you have to add permit and order times to that. Connecting utilities is also often a delaying factor. In practice, we often end up with a total construction time of six months. With a classic new construction, that is easily two years."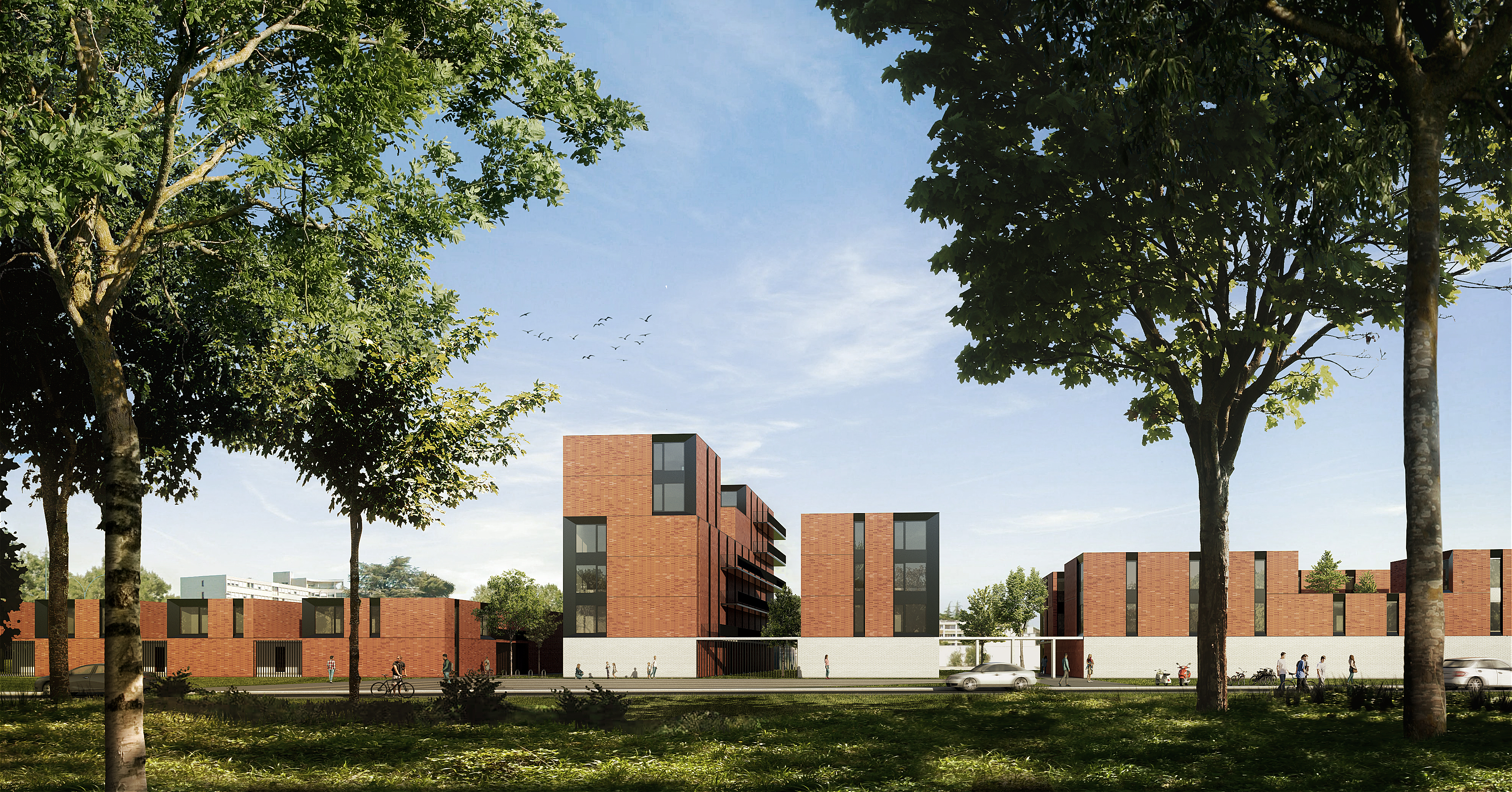 urban edge apartments
With the launch of a system for modular wood-frame apartments, Skilpod is shifting up a gear. Filip Timmermans points to the increasing housing shortage in our country and also in the Netherlands. "The Netherlands has the ambition to build 100,000 additional homes on an annual basis in the coming years," he says. "With the traditional way of building, this is impossible; there is already a shortage of qualified construction workers."
Skilpod developed a scalable modular module that allows it to build apartment buildings up to five stories high. "For apartment construction, we work with two fixed module sizes to which we add an engineering unit and a bathroom module. With those four components, we can build apartments from 40 to 160 square meters. Within this system, we can standardize even more, which also allows us to build faster than with individual homes."
Meanwhile, the first order is in. For a Dutch housing corporation, Skilpod will build an apartment complex with twenty residential units. Advanced negotiations are also underway in our country. "For the apartments, we are aiming for locations just outside city centers," says Timmermans. "Inner-city projects usually require more customization, which makes them less interesting. Also in terms of logistics and accessibility, locations on the outskirts of the city are more attractive to us.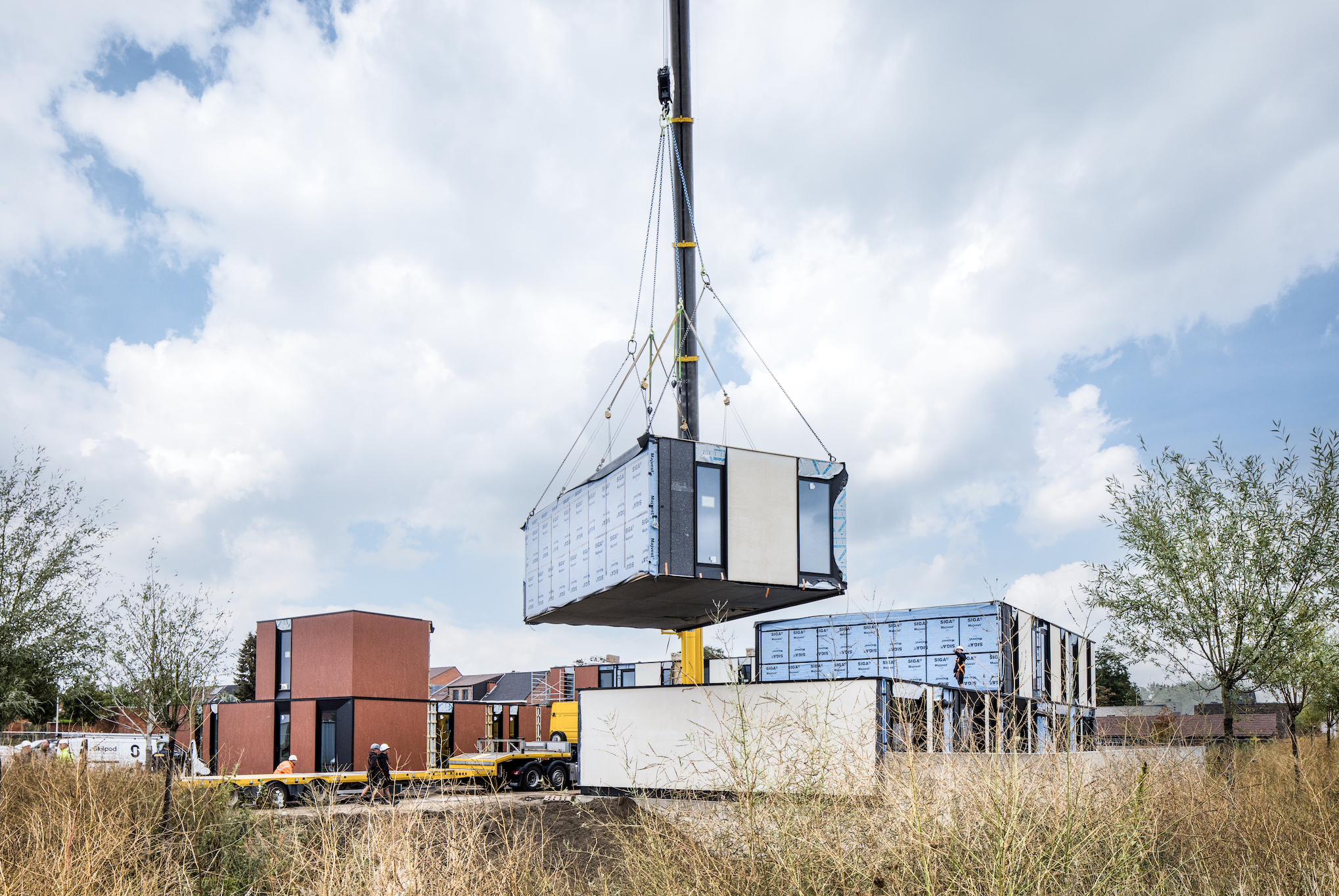 less choice, less worry
Modular and timber frame, it is certainly not an obvious combination in Belgium, Timmermans knows. But compared to ten years ago, when he started Skilpod, he has already seen the market change significantly. "Today, timber frame construction is pretty well established. Building with wood is sustainable and it is also on the rise because of that. But the Belgian consumer still wants to be able to do his own thing in such a home. Choices are limited when buying a Skilpod. This is necessary, or we couldn't standardize enough. For some people, this is a deal-breaker, but for others, it is a blessing: not having to make choices also means less worrying."
And is modular wood frame construction also cheaper than conventional construction? "We are usually 5 to 10 percent below the price of a similar classic home," Timmermans replied. "Wood is not a cheap material. But because of standardization and the controlled production environment, our construction and study costs are a lot lower."
Article reprinted from Trendstop construction edition February 2023, author Laurenz Verledens.