sustainable building — E-levels, EPCs energy neutral apples and oranges
Just about every company selling homes today talks about BEN homes, E-levels and all sorts of other terms related to the energy consumption of your home. But what exactly does that mean? We'd like to walk you through the world of energy-efficient construction, so that during your construction journey, you'll know exactly what you're comparing.
e-level vs. EPC
The E-level is a score that indicates how energy efficient your home is. It is part of the EPB regulations (Energy Performance and Indoor Climate), or the legal obligations regarding energy for those building or renovating a house. All new homes built in Flanders may have a maximum E-level of E30.
Factors that have an impact are laid down in the EPB regulations, and are for example: the insulation of the building envelope (S-level), ventilation, the heating system, airtightness, overheating in summer, the consumption of pumping systems, the installation for hot water, etc.
The E-level can be estimated in advance based on the construction plans of your home, but is not assigned definitively until your home is installed. After all, it is a specific number for a home in a particular location. This is partly because there are factors that vary from lot to lot, such as orientation toward the sun, and partly because practice always differs somewhat from theory. All homes must follow the same rules regardless of how they are built.
The declaration is done by an official EPB reporter. The E-level of the house is only granted once, so if you were to make adjustments afterwards, you will not get a new E-level.
The EPC (Energy Performance Certificate) is an official document to inform tenants or buyers and/or to prove whether or not you qualify for certain subsidies. You only get it after the EPB declaration. This can be up to 12 months after the end of the works or delivery of the house.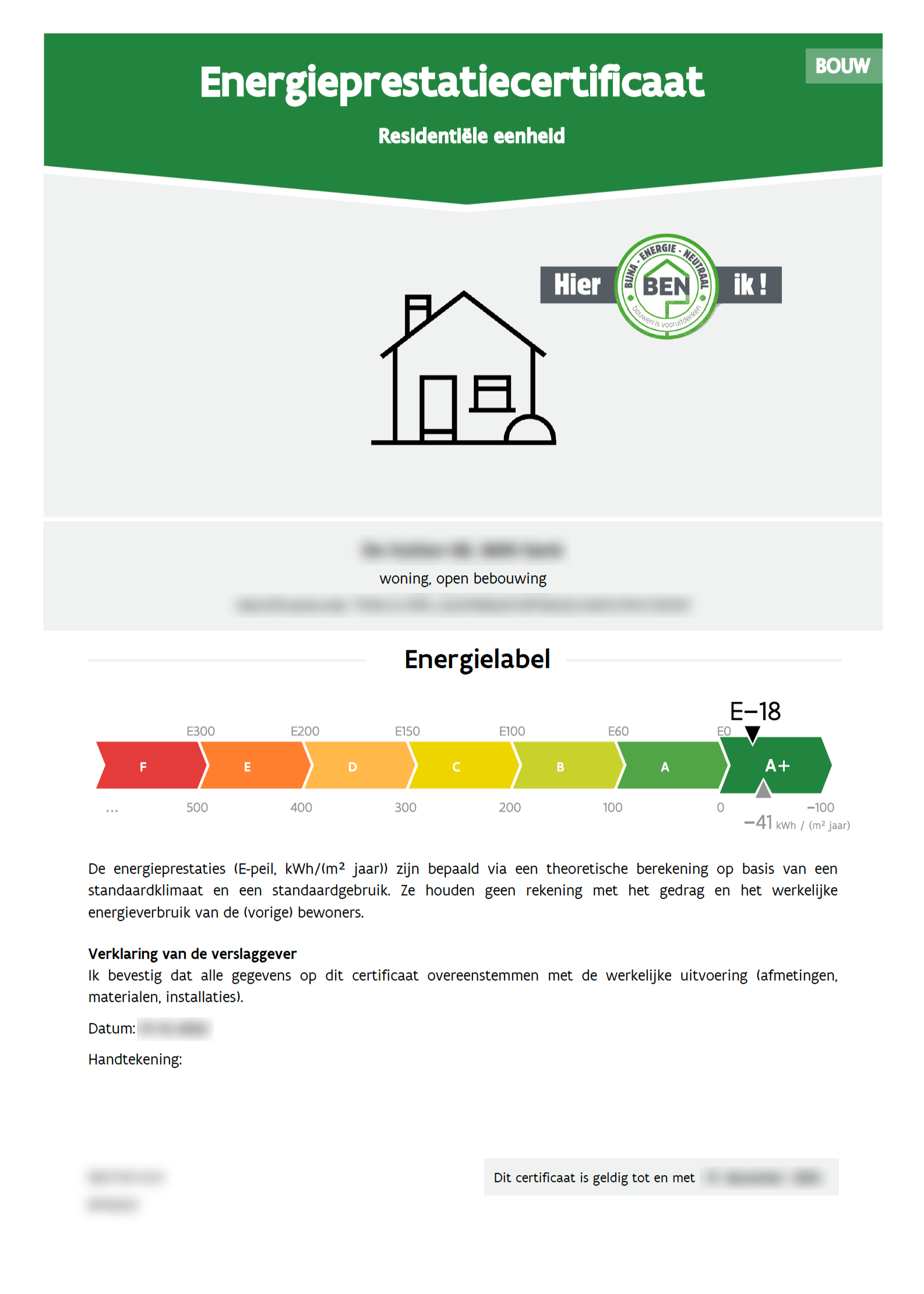 On an EPC Construction you will find different types of information, including:
An EPC label: a letter from A to F.
An energy score in kWh/m2
The E-level
All three are designed for easy comparison with other homes. In practice, for new construction homes, the EPC label is of little use, as they will all be in class A. When comparing to an existing home, however, it can be useful.
The energy score helps you compare homes of different sizes by showing the estimated consumption per year per square meter. Don't let this fool you, obviously it will cost you much more energy in total to heat and cool a larger home. That's why we at Skilpod are fans of compact homes.
Because you only get the EPC after the EPB declaration and that declaration can only be officially filed once your house is delivered, new construction houses that you buy on plan do not have an EPC. Once you get the EPC, it is valid for 10 years. You can always apply for a new EPC if you have made changes to your home to make it more energy efficient.
the importance of the S-level
An important factor in calculating the E-level is the so-called S-level, or envelope level. This figure indicates how energy efficient the envelope of your building is. The envelope is the boundary between the inside and outside of your home: the first floor, all exterior walls, windows, doors, and your roof. Unheated areas, such as a basement, are not included.
A well-insulated envelope is extremely important. After all, you can quite easily add additional solar panels or upgrade your heating system as new technologies come on the market, but the envelope of your home is almost impossible to adjust without major renovations.
Some builders use solar panels or other smart technologies to get their E-level within regulations, but go a little easier on insulation. So be sure to ask what a home's S-level is before making any decisions.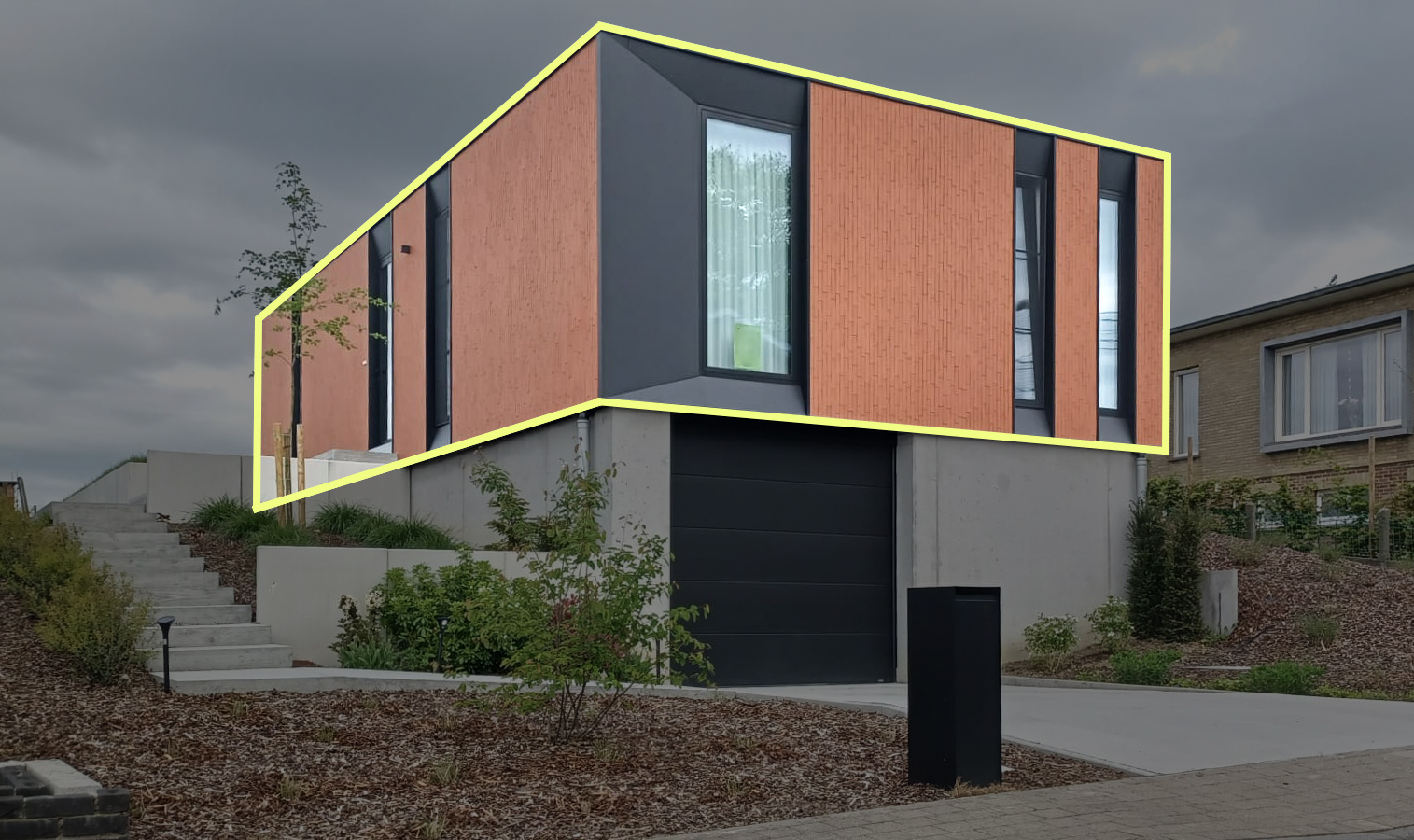 BEN homes, zero energy homes and negative E-level
BEN stands for Nearly Energy Neutral. So a BEN home is a home that is more energy efficient than a "traditional home." The E-level must be lower than E30. But that label doesn't provide much info, because since 2021 all new construction in Flanders must be a BEN home.
An energy-neutral home goes one step further and has an E-level of no more than E0. This means that on an annual basis, it generates as much energy as it consumes. Hence the term energy neutral.
Many energy-neutral homes even have a negative E-level. That means the house generates more energy than it consumes, through renewable energy. This usually involves solar panels, but wind energy is also an option.
Note that you cannot achieve a negative E-level if you do not generate energy. even if you were to incorporate an entire container ship of insulation material into your home, the lowest you can achieve without energy production is E0.
what is the E-level of a Skilpod home?
As we mentioned above, the S-level is crucial to us. Therefore, we ensure that we achieve our E-level of less than E30 without relying on solar panels. We don't take shortcuts and provide an excellently insulated envelope. Because we build prefab wood frame houses in a workshop, under optimal conditions, we can be extremely precise. Upon delivery of each home, we have a blower-door test performed to verify the airtightness, and there we always score better than theoretically expected. This lowers your official E-level even further.
In addition, in all our Skilpods we use a ventilation system D, triple solar glass, a heat pump for heating and cooling and a heat pump boiler for hot water.
We can't give you the exact E-level in advance because, as mentioned, you won't be assigned that until your home is installed. The estimated E-level of our Skilpods is always below E30 - of course, because we build according to the law - but it varies per model. Moreover, we are always optimizing our Skilpods, so the E-level is also evolving. You should ask your Skilpod expert what the expected E-level is for your specific Skilpod.
A standard Skilpod is equipped with 8 solar panels, but you can always choose to install more and aim for an energy-neutral home. Thanks to our excellent S-level, you can get there relatively easily. Our prototype #150 (comparable to our current model #144), was built 8 years ago and already reached an E-level of E-12 back then. A recently installed #130 attained E-18.
Though we should ask ourselves whether it makes sense to aim for an ever lower E-level. Solar panels are not cheap, and since the backward counting electricity meter has been eliminated, it is less advantageous to put the excess energy from your solar panels back on the grid. You can install a home battery to spread your use over the day or do energy sharing with your surplus energy, but even that is not necessarily the optimal solution for your situation. So make a good cost-benefit analysis, tailored to your family (number of family members, number of electric cars, how often you are home on average, etc.).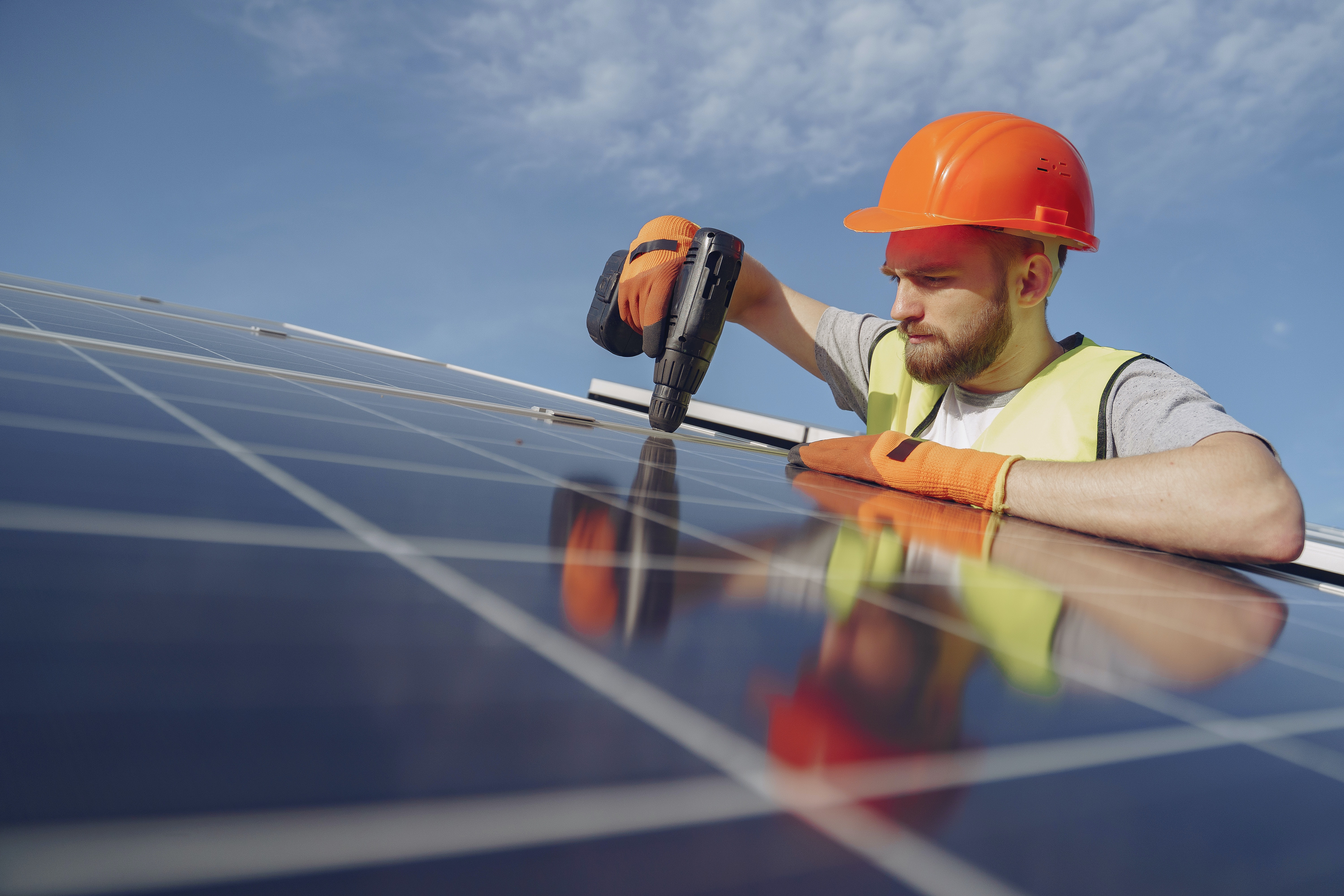 do I get a discount on my cadastral income?
You used to be able to get a discount on your cadastral income (KI) for all new construction homes with a lower E-level. Since early 2023, this is only valid for renovation and demolition and reconstruction. Only the latter applies to Skilpods. In some cities, you also only have to pay 6% VAT on demolition and reconstruction, so that may be a smart option.
To take advantage of the KI rebate for demolition and reconstruction, you must reduce the E-level enough:
Maximum E20 for a 50% property tax reduction
Maximum E10 for a 100% property tax reduction
conclusion - compare apples with apples
Finding your way through the jungle of energy-efficient construction is no easy task. We hope this article will help you get started comparing apples to apples and not be seduced by empty promises and salesmen who try to blind you with all sorts of buzzwords.
And do you still have doubts? Questions? Just contact us, we'll be happy to help you.
Update July 2023: in an earlier version of this article we talked about Skilpods without solar panels. As of July 2023 these are no longer available and all Skilpods come with 8 solar panels included in the all-in price.
more about sustainable building